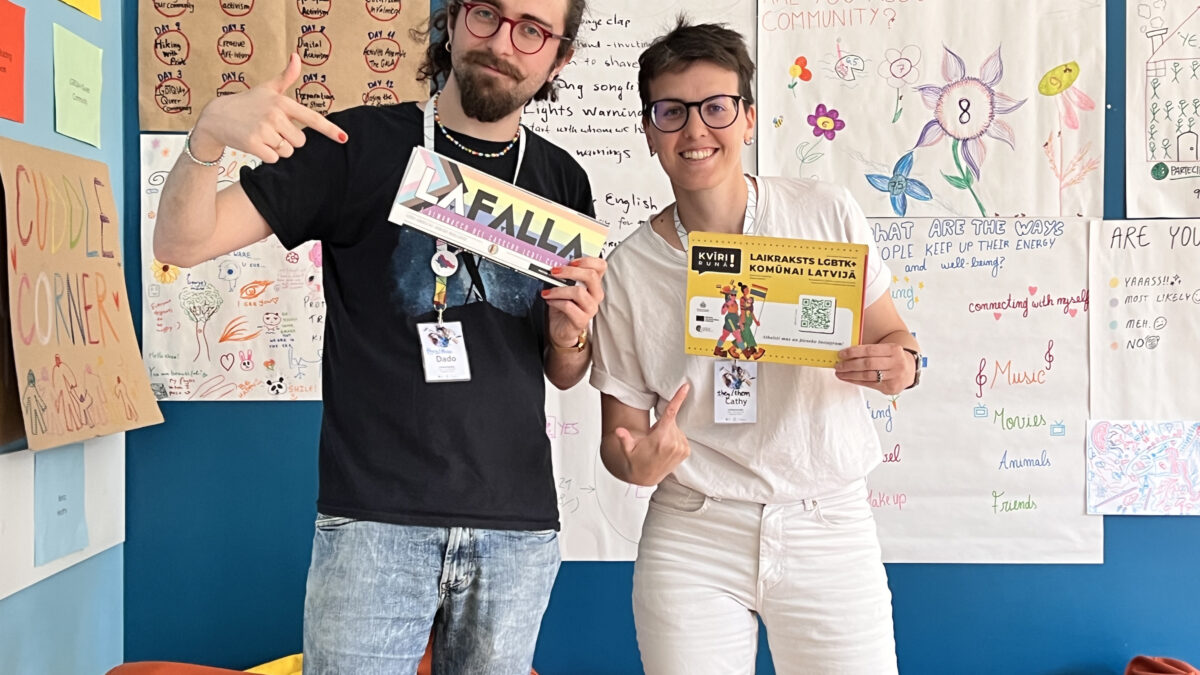 In July 2023, thanks to Global Cassero I had the chance to participate in the Erasmus+ project Active Rainbow. During our day 5, dedicated to exploring activism through art, I discovered Kvīri Runā!, a queer magazine openly inspired by La Falla. Full of marvel and pride, I couldn't help but interview Cathy Manousaki, human rights activist and youth worker, about our distant latvian cousin and the effectiveness of the project they founded to share ideas and good practices all over Europe.
Let's start from the beginning. What is Active Rainbow?
Our first Active Rainbow camp was in 2018 and was inspired by similar projects we saw around Europe. The aim is to activate and support young people throughout the experience of exploring and learning what type of activism works best for them and makes them feel safer. Whether it's art, protesting, policy making, digital contents, gathering events, community building or playing board games, any form of activism is contributing to the common goal of having basic human rights, dignity and visibility in all countries. Then, after 12 days of the program, we encourage the participants to bring local actions in their own countries and social environments, so that they can keep inspiring their communities.
Part of the program is also inviting young people to bring to the camp any type of educational material, flyers and merch from their countries. So back in 2021 we had our forth camp in the Netherlands, called Youth in Activism, the Camp, and of course, Global Cassero activists took part of the project – we have been collaborating for a long time thanks to Cassero's president Camilla Ranauro, which I met in 2014 during a project right here in the Netherlands called Gender Unlocked.
And that's how you met La Falla! But how did Kvīri Runā! come to be?
Yes! They brought La Falla, which I actually knew from 2014/2015 when I first started doing activism and I thought it was one of the most impactful initiatives to spread information and raise awareness within the community. Long story short, through this camp, our latvian team got inspired by La Falla because in Latvia we don't have such a thing: there is not a newspaper or a magazine for the queer community, especially for young people. There's also a struggle with information about the queer community being in latvian, because even on Google you can find contents almost only in english.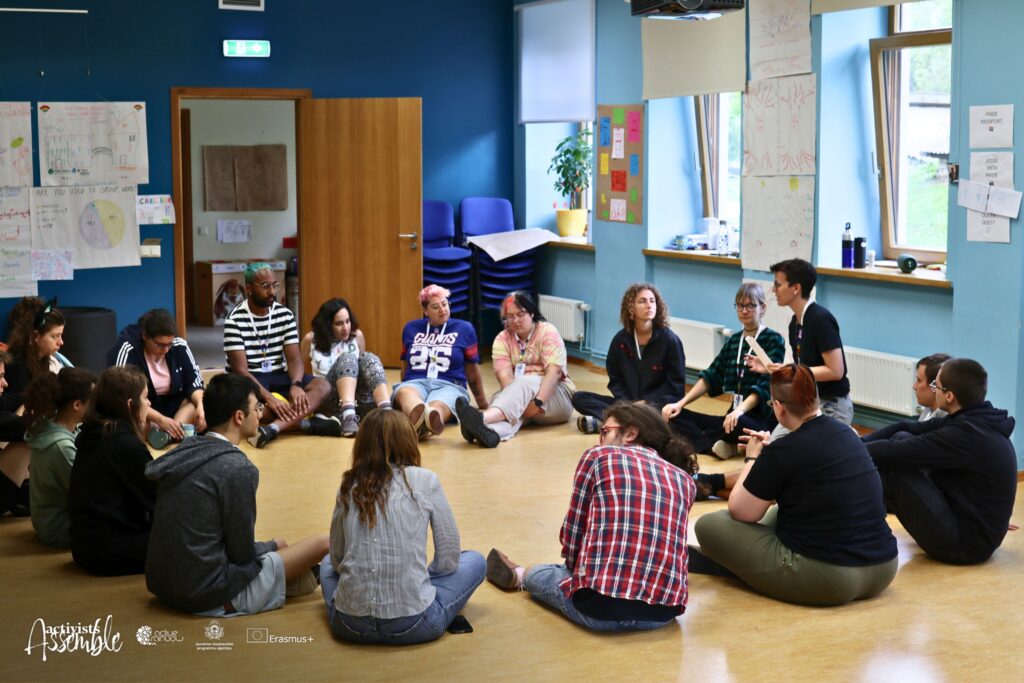 So they felt the need to have something printed and to create their own newspaper, Kvīri Runā!: they took La Falla's approach of having the paper folded and representing and promoting a Latvian queer artist in the back with a poster. It took the group a whole year to write a project for European Solidarity Corp, which is a funding that supports local actions, but in the end we managed to cover the costs for materials, merch and printings – which you already know how expensive they are. The first number was published in June 2022 and since May 2023 we've had five more, each magazine with a different theme and different artist. During this timeframe we also managed to promote community events and produce postcards and a poster with values and good practices for making public spaces safer. Right now we are working on uploading our contents on our own website. I really believe this is a great example of how our projects work like a domino effect all over Europe.
You are such a positive and caring person and your work is so inspirational. How did you start?
By discovering non-formal learning back in 2011, it was the same period when I was discovering myself in terms of my sexuality and later of my gender identity. I'm a free spirit and I had always been impatient with our canonical education system, so in 2014, when I graduated in Greek philology, I told my parents to hang my degree on their wall and I left with one luggage and a one way ticket. For two months I was attending a project after another around Romania, Czech Republic, Croatia and so on, getting inspired by how people do things in their own countries.So I discovered my purpose in life: working with people from different backgrounds as a trainer and a facilitator. Active Rainbow started to come to life to me as my life statement while we were doing a street action in Iași and I had my face painted rainbow. Then I posted photos online saying «I'm an active rainbow, who are you?», so that's where the name came from. It started as a platform to show the beauty of diversity of people through photography and videos, and then I learned how to write my first project and it became a way to provide mobility for young people around Europe so they could get to live together and explore queer topics. And here we are, in Latvia since 2019 (we felt like this country needed an organization like ours): we have three years of activities already planned, and we are also working on a camp for people who are already into activism to go deeper with their skills and intersectionality.
Il presente articolo è disponibile anche tradotto in italiano
Davide Proto
Laureato in Lettere Classiche, attualmente studia Italianistica presso l'Alma Mater Studiorum di Bologna. Tra un pisolino e l'altro legge e scribacchia un po' di tutto: ha collaborato con diverse testate e pubblicato un libriccino di poesie. Armato di schwa e voglia di fare la sua parte, per la Falla scrive, conduce la Salotta di Classe e coordina la sezione podcast.
Leggi anche